I'm embarrassed to admit this, but I wore a Winnie the Pooh watch for years. Pretty much all of high school, possibly before and maybe even Freshman year of college. It had a leather band with embossed bees on it. And I vaguely remember that the second hand had a bee on it as well. This thing was resilient. I lost count of the number of times it went through the wash and a full cycle in the wash. It finally kicked the bucket after one too many runs through the dryer. I'm sure all my friend were thanking God at the time. Man, I sure loved that thing.
I was pretty sad to see it go, but I needed to grow up. I also needed a new watch. I'm one of those people that is lost without a watch (my cell phone has since replaced that dependency). Luckily, I had received one for high school graduation from my God parents. I wore it daily for the rest of my college career and until it's death in 2008. Technically, it could still work, but I didn't want to glue a cracked and scratched [plastic] cover back on it. Plus it gave me a good excuse to upgrade to fancier watch.
The first watch I ever bought myself was a Citizen Eco-Drive watch. Eco-drive so that I would NEVER have to deal with replacing batteries for the rest of my life. It never crossed my mind that a) it wouldn't last forever or b) that I would tire of it. Turns out that having a real job and a disposable income can change a person.
Fast forward to 2012. I became bored with my watch, not to mention I hated the holes left behind by stones that had fallen out, and casually began looking for a replacement. Jake secretly purchased a watch that I had pinned on Pinterest for my birthday. Good job husband!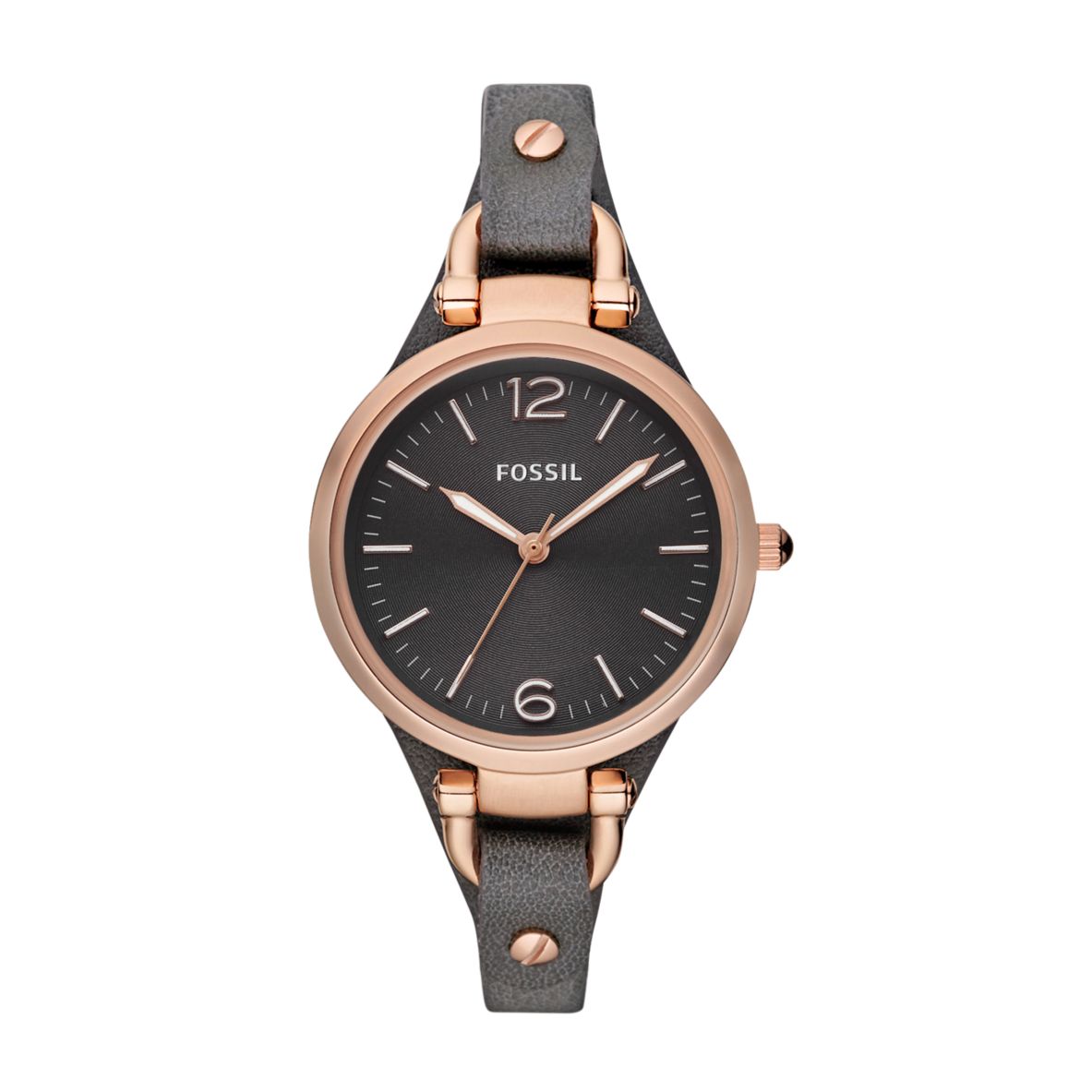 Georgia Three Hand Leather in Smoke and Rose
Fossil
3 months later, I just couldn't pass up a great deal on
Ideeli
and picked up a
La Mer
wrap-around watch just as the style was trending.
Mine looks very similar but has fewer chains and a single strand of turquoise crystals.
(La Mer)
It was only 2 months later that I broke down and purchased my beloved Michael Kors watch. I had tried my damnedest to not be sucked into the big-name-oversized-face-ceramic trend. But the force was too strong (especially when you don't have to pay full retail). You can just call me a
lemming
.
Now that I have a pretty good collection going, I realize there is a gap. I don't have a [yellow] gold watch. I've looked high and low for something different. The standard Michael Kors watch is nice, but it would look just like the one I have. I fell in love with a
unique band
. Surprisingly, the GIANT face worked very well on my petite wrist. However, the face is very thick. The weight from the face was too much and I was constantly adjusting it, so back to the store it went =(
Fast forward to earlier this week. I came across
this photo
by Kelly over at
Alterations Needed
and became smitten. I've spent the week obsessed with trying to find it. And I did, but who wants to pay full price for something that was released 2 years ago? Then yesterday, I saw a coworker wearing the watch! She found it a Nordstrom Rack just recently.
After work, I was on a mission. Sadly, I struck out at 2 of the local places. Instead of trekking out of my way, I called up the remaining three in the state. No dice. On a whim, I called Nordy's Rack by my parents (yeup, all the way in Oregon), the same one that I had purchased my lovely MK watch from. Well, wouldn't you know it. They had not one, but two of them. And the nice sales rep knew exactly what I was looking for when I described it to her. SCORE! The gold leather band looks funky to me, but I'm going to copy
Kelly and just replace it.

Now I just have to wait...patiently.